DREAM PROTECTION by Sufian Chaudhary.
What if I told you that there was a way to protect yourself from ever having nightmares again? I initially started exploring the world of dreaming and delved quite heavily into trying in induce lucid dreams in order to interact with various Higher Beings. However what I found was an absolute mine field of dimensional constructs, psychic warfare and subconscious vampirism by Dark Beings so powerful that I was forced to develop a way to sleep peacefully or forever lose my sanity! I ventured across a very powerful method that effectively set-up a subconscious protection that prevented negativity in all of its forms from disturbing me while I was fast asleep. Weeks of nightmares and demonic beings trying to eat my soul later, I finally perfected my method. Little did I realize as to how my level of God-self realization exploded outwards with the sacred doorway I opened in my subconscious mind of not only this lifetime, but lifetimes in the past! It was so powerful that I thought it necessary for others to experience it. Enter the World of Dreams!
What is a dream?
A dream is an astral experience of the human mind. It is a completely submersive environment that harnesses the power of the human senses in a mesmerizing interactive scenario of subconscious reflections, and sometimes nostalgia of what most impacts the current state of mind. Some may say that Life is a dream. That Death is our waking from this interactive dream of colors, shapes, feelings, and places.
When we fall asleep at night our consciousness slips into a deep harmonic vibration and our subconscious mind takes over. We are no longer consciously interacting with our world, we undergo a form of subconscious projection where our energetic body moves into an ulterior dimension, either up or down from our current state of reality. This projection is sometimes laden with symbolic visions and prophecies. Much of the time we simply process deep stored emotions and energies of the day. What is rarer is when we gain control of our subconscious projection and we become acutely conscious of the fact that we are indeed within a dream. This is very close to real life.
What is a nightmare?
A nightmare is when a dream is laden with perceived negative attributes that act to entrance the human mind into a state of fear, anger, or darkness. What some may perceive as negative, others may interpret as normal. Therefore a nightmare is a completely subjective experience based upon what stimulus affects the individual's deep psychological behavior.
The fear of loss, the fear of pain, and the fear of inaction all play to stimulate a desired negative experience. It doesn't matter what visuals are used or in what combination; it is the underlying mental state that is compromised. Mental disharmony is the cause and also the result of a fully induced nightmare.
What is more specifically rare is the manipulation of a dream into that of another projection completely. An external stimulus of negative energy, demonic being, or Darkness, aims to weaken the individual on the energetic front. Lack of sleep, a fear of sleep, or melancholia about the possibility of negative scenarios playing out in reality, all collectively induce what is known as the living nightmare. In such a state, the individual is being manipulated without any conscious method to protect themselves. They walk around in an ironic dream-like state, blending the subconscious with the conscious; fear acting as the energetic bond between projections.
Dream Protection is the act of consciously creating a positive polarization of white energy within your subconscious mind before you sleep, in order to protect the mind against nightmares. In Chapter 10 in my book World of Archangels I describe many methods of psychic self-defense that aim to repel against negative forces from manipulating the human energetic body. These techniques were performed by visualizing specific shapes and materials such as the White Orbs & White Armour to directly manipulate the body's natural aura into a more beneficial stance.
Dream protection differs from psychic self-defense in a couple of ways. Firstly the conscious techniques of surrounding the body with white energy do not transfer across into the subconscious projection of a dream. Secondly it is quite difficult to perform these techniques within the dream state, often resulting in a forced awakening. The White Orbs & White Armour can protect against anything jumping into your body or otherwise externally manipulating your body while you sleep, but they will not protect you against Beings so realized that they can literally walk in and out of your dreams as they please. These were the types of Beings I found myself surrounded by at night; menacingly crafting my dreams into vivid demonic nightmares.
At first I tried Area Protection, but I soon realized that these demons were tunneling their way through an ulterior dimension into that of where I was subconsciously projecting to experience my dream. Then I advanced my thinking and I opened a very powerful doorway.
Please refer to the above infographic 'Layers of the subconscious mind'.
The first black circle on the very left represents the conscious mind; everything that we do or think about on any kind of conscious level– the interactive stimulus that fuels our subconscious into reacting. The second, slightly larger, black circle represents the subconscious mind; everything we have ever encountered, experienced, felt, heard, saw, tasted, or even thought about. Our subconscious mind is so much more powerful than our conscious mind. Our brain has an incredibly hard time interpreting subconscious stimulus into a conscious thought. In fact our subconscious mind processes our conscious thought up to 6 seconds before we ever consciously think about it!
This blog can explode to a new level of how powerful our subconscious minds truly are. I could post entire blogs about how life as we came to know it, is a filtered reality of what our brain interprets from the world around us, that we are effectively living within a real-time lag of perceived events unfolding.
Where my Dream Protection achieved a whole different dynamic was when I experienced a dream-within-a-dream. I would be having a dream, and effectively "wake up" from that dream, and still continue to be dreaming. I was effectively dreaming 2 "layers" under my normal conscious reality. The movie Inception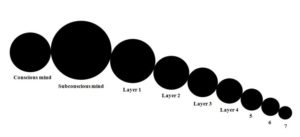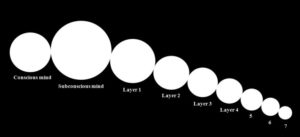 comes to mind (I actually wrote an article with a snippet from the movie in Consciousness & Awareness). This layering effect is what I want to concentrate on. So I have had nightmares where I tried waking up from them within my dream, to only find myself in another layer of manipulation, therefore creating a negative relapse causing me to believe that the state of fear was indeed my reality. And this sprang some questions up in my mind; if there were two layers of my subconscious mind, how many other layers were there? What actually were these layers?? I soon realized that they were not layers at all.
How to Perform a Dream Protection
I use 7 layers for my Dream Protection. The infographic 'Layers of the subconscious mind' portrays the conscious mind, subconscious mind, and 7 subsequent layers of the subconscious mind. The black circles get smaller with every layer, as I am trying to represent that each subsequent layer is slightly "further away" from the last. Even though the entire subconscious complex is One, we are going through the illusion of a past, present, and future; therefore we need to mentally differentiate layers.
Step 1
Close your eyes and sit upright in bed just before you want to go to sleep. Place your fingers in the Enlightenment mudra. The first thing you want to do is visualize your conscious mind– being a large black spherical space directly around your head. When you close your eyes your conscious mind is much larger than the physical confines of your head, however for the purposes of this meditation the conscious mind will become the series of electric neurons and synapses within our brain.
Step 2
Visualize a powerful bright light bursting out from the center of your conscious mind, in the form of an exploding star. Your conscious mind will go from being a black thought, to a brilliant flash of white light that does not stop exploding outwards.
Step 3
The next step is to visualize your subconscious mind. This is the tricky part. Your subconscious mind is in no way a physical organ, counterpart, or definable shape. It is a realm of consciousness, a sea of thought, knowledge, and potential. If the conscious mind was the size of a basketball, the subconscious mind would be the size of a swimming pool. Getting the exact proportions isn't important. It is the sheer magnitude of the size that you need to grasp. The subconscious mind sits directly behind the conscious mind, dwarfing it in size, and almost 'uses' the conscious mind to interact with the physical world. Visualize it as a mass of black space, similar to the infographic above.
Step 4
Visualize a powerful bright light bursting out from the center of your subconscious mind, in the form of an exploding star. Your subconscious mind will go from being a black thought, to a brilliant flash of white light that does not stop exploding outwards.
Step 5
The next step is to visualize the first layer of your subconscious mind. The first layer of the subconscious mind sits directly behind your subconscious mind. The second layer sits behind the first. The third layer sits behind the second, and so on. This layering occurs over multiple subconscious constructs. All of these layers denote various aspects of the consciousness you have come to know as you. Burst layer 1 of the subconscious mind in a white exploding star, as you have done with both the conscious and subconscious minds.
Step 6
Proceed to burst the next layer of the subconscious mind with white light. Continue doing this with every subsequent layer until you get to the 7th layer. In total, you should have 9 exploding balls of white light: 1. Conscious mind, 2. Subconscious mind, 3. 7 subsequent layers of the subconscious mind.
What is important is the pattern in the infographic. If you were standing on the left side of the image, facing left, your head would denote the circle of the conscious mind. When you close your eyes, you have to move through the various layers, bursting white spheres of light, one after the other. From your current stand point, every consecutive layer is smaller than the last, as it is further away from your current reality. Once you have finished the meditation, all of these circles will be white. The below inverse infographic shows the color and pattern your conscious and subconscious mind should look like.
This technique only takes me a couple of minutes to perform. It all comes down to mentally visualizing 9 exploding balls of white light. Your mind will soon recognize the difference between the various layers and it will become quite easy to perform a Dream Protection.
Anybody can perform Dream Protection to rid yourself of nightmares. Something I have to mention is that you have to perform this technique every single time before you sleep if you want it to work! If you miss even a single night in the week, you leave your back door completely open. For those who have something very powerful playing with them, this is unfortunately the compromise you have to be willing to make. For those with just a couple bad nightmares that you are trying to get rid of, your routine can be much more relaxed. I have tried various combinations of this technique and spending a couple of minutes going through the above steps is definitely the most effective.
What Dreams May Come
I found myself fighting an ethereal war with a Being so strong that he could not only surround my body and consciousness with darkness in the physical world, but also follow me into my dreams and recreate my astral environment. I grew weary and tired during the ordeal, black rings were forming under my eyes. I didn't know how to attack something that didn't exist within my concept of time and space. This Being was a master of ulterior dimensions. I was however determined to follow this thing into the dream world and try and understand how it did what it did.
When I stumbled across the idea of subconscious layering, I realized that this Being was tunneling through deeper layers of my subconscious mind, and traveling upwards towards me. These layers introduced a whole new paradox of thought. Our conscious minds were being driven by our subconscious minds. Reality was a form of a sustainable dream, one which we perceive as fixed or stable. Why did we have deeper layers to a program that is already wholly contained within our current life? Then it dawned on me. What if these weren't layers? What if these were subconscious memory banks, raw uninterpreted data from previous lives?
Every lifetime we live, our subconscious mind is storing everything we do or interact with. Pure data that becomes obsolete when we die, save for the things that help our consciousness grow on an inter-lifetime basis. When we undergo a past-life regression, we are accessing a particular subconscious layer relevant to that lifetime. Our conscious mind interprets that raw data as memories, thoughts and feelings. The chains of lives were creating a continuous flow of subconscious constructs in the linked ball-like pattern like in the infographic above.
I was dealing with something that was coming to me from a past life, and making its way through my subconscious network to find me in the Now. Therefore by creating a protection scheme that went back through at least 7 layers, I was blocking its pathway from reaching me. For him, he was coming up against a field of white exploding stars that he couldn't cross.
It was months later before my Grandmaster taught me how to alter the white exploding stars into a self-replicating, self-sustainable white light that started eating away at darkness in a giant explosion throughout every layer of my mind. From that day forward I never had to perform the Dream Protection again.
My journey with the Being had come to an end. Though my ethereal war with such Beings ensues, I developed a whole new paradigm to play with. I opened a doorway into my subconscious mind and came to understand how little we understand about the nature of what it means to be alive. We are interacting with a world we have interacted with hundreds of times in the past. What is significant in any given lifetime is the psychological anchor that triggers us into remembering who we are and what we are doing here. Every lifetime is reduced down to that of raw data once we pass over. A couple of lives later, we stop accessing those memory banks altogether. We walk around looking for an unlocking key, wandering in the darkness, until one day a synchronistic predestined movement of events opens a gateway of realization. For one brief moment, we could be closer to God than we ever thought possible. We could spend lifetimes looking for such a moment, to only have it disappear during our next reincarnation. Such is the fate of the dreaming soul.