Book 9 / 10. The Bhagavad Gita. A Friend For Eternity.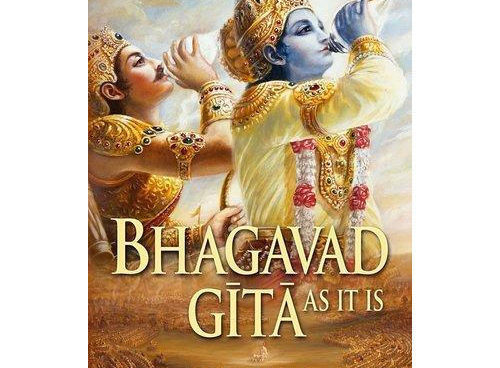 The Bhagavad-gita is universally renowned as the jewel of India's spiritual wisdom. Spoken by Lord Krishna, the Supreme Personality of Godhead to His intimate disciple Arjuna, the Gita's seven hundred concise verses provide a definitive guide to the science of self realization. No other philosophical or religious work reveals, in such a lucid and profound way, the nature of consciousness, the self, the universe and the Supreme.
His Divine Grace A.C. Bhaktivedanta Swami Prabhupada is uniquely qualified to present this English translation and commentary on Bhagavad-gita. He is the world's foremost Vedic scholar and teacher, and he is also the current representative of an unbroken chain of fully self-realized spiritual masters begining with Lord Krishna Himself. Thus, unlike other editions of the Gita, this one is presented as it is–without the slightest taint of adulteration or personal motivation. This edition is certain to stimulate and enlighten with its ancient yet thoroughly timely message.
The Bhagavad-Gītā As It Is is a translation and commentary of the Bhagavad Gita, by A. C. Bhaktivedanta Swami Prabhupada, founder of the International Society for Krishna Consciousness (ISKCON), commonly known as the Hare Krishna movement. The Bhagavad Gita emphasizes a path of devotion toward the personal God, Krishna. It was first published in 1968 by Macmillan Publishers and is now available in nearly sixty languages and is primarily promoted and distributed by followers of ISKCON. Prabhupada's translation and commentaries of the Bhagavad-Gītā As It Is is considered by adherents to the ISKCON movement and many Vedic scholars to be one of the finest literary works of Vaishnavism translated into English.
Most everyone at some point hears about the Bhagavad-gita, but do they know what it really contains, or how profound and deep is the knowledge that it provides?
Besides being the classic Eastern text that it is, and the summary of most Upanishadic information, it is the core of the deepest levels of spiritual knowledge. It is also like a handbook for life. Just as when you purchase an appliance of some kind, like a refrigerator, television or computer, you get a manual that teaches you how to use it. So in the same way, if God created this world and put us here, doesn't it seem that He should also tell us what is the purpose of this life and how to use it accordingly? The Bhagavad-gita is such an instruction manual for anyone. It provides the basic answers that most people have about life, and the universal spiritual truths that can be used by anyone, anywhere, and at any time in history. In this way it is timeless.